Shaft Seal Parts
shaft seal parts are composed of expeller, expeller ring, shaft spacer and stuffing box etc. The shaft of the centrifugal water pump passes through the pump body, and there must be a gap. The function of the shaft seal is to prevent the high-pressure water from flowing out through this gap and the air entering the pump from this place. A shaft seal device must be provided. Packing seal is the most commonly used type of shaft seal. It is composed of bottom liner, packing, water seal ring, water seal pipe and packing gland. The packing seal relies on the close contact between the packing and the shaft sleeve and the oil film formed on the contact surface after the lubricant in the packing is extruded to achieve the sealing.
The bottom liner and the packing gland cover the ends of the packing on the shaft, which acts as a barrier and compacts the packing. The degree of packing tightness can be adjusted with a nut on the gland. If the pressure is too tight, the friction loss between the filler and the bushing increases rapidly, shortening the service life of the filler and the bushing. In severe cases, it will generate heat, smoke, or even scorch the filler and the bushing; if the pressure is too loose, the leakage will increase.
The efficiency of the pump is reduced. Therefore, the packing should be pressed tightly and properly. Generally, it is appropriate to form a drop when the liquid leaks. The water seal ring in the middle of the filler is a ring with a concave in the middle and a convex outer circumference. There are several small holes in the ring. Align the water seal tube. When the water pump is running, the water with higher pressure in the pump enters the water seal ring through the water seal pipe, and the filling section is introduced to perform the water seal, and also has the function of cooling and lubrication.
What You Need
Slurry pumps' wetted parts are essential for operation. It includes the volute liner, throat bush, frame plate liner insert, and the impeller. In order to meet the requirement of different applications, extend the working life, reduce the disassembly and maintenance on the pumps, there are different materials on optional.
We produce and have inventory of most original pump and spares. If the users supply us the part no., we could deliver you some within 5 days. And we guarantee 100% interchangeable with original. You will enjoy the same technical service and quality as we do to the Fortune Global 500 mining companies.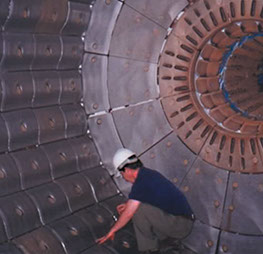 Minerco also has been helping customers in a variety of industries by supplying high-performance steel castings. Today we have grown to offer engineered wear solutions for virtually every industry segment. If you are a headache with your supplier of mill and cursher liners,pls contact us to resolve for you.